a helping hand
is a new feature on the RR Blog. These will be supporting tools from the experts... or articles written
by
experts
for
parents!
This is the second post by from BabySignLanguage.com in our 'a helping hand' series, giving you a tool that can help you improve communication with our children with Down syndrome and special needs.
To read the first post
introducing baby sign language
click
here
.
In this post we introduce the four principles of teaching sign language to children: Fun, Repetition, Encouragement, and Expansion (F.R.E.E).
Fun with Signs
Making sign language enjoyable is the most important part of teaching sign language to children with special needs. The first few signs we introduce will be signs that children will be highly motivated to learn, like Mommy and Daddy, Eat and Drink. We will also introduce signs related to games and songs.
We all know how frustrating learning something new can be for children with Down syndrome, so keep it light hearted. Pushing any child, particularly in the early stages of learning is often counter-productive because it creates a negative association with that topic. Even if progress is slow at first keep your energy and excitement up to ensure the learning exercise is enjoyable. This will nurture your child's desire to sign.
Repeating Signs
Repetition is the secret behind all language acquisition. The more exposure we can give our children to signing, and indeed all language, the more they will assemble associations and begin to internalize the signing. You can make the sign before, during, and after the object of your signing. However, the most powerful time to make the sign is just before the object or action is introduced.
Attempt to integrate signs into your everyday life and routines. Even when you are talking to someone else, you would be surprised at how much your baby is observing and learning. Invite family members to join in the signing so your child receives signs from different people.
Encourage Signs
Encouragement is the little push that helps your child over the difficult part where they are just learning and may be struggling a little. When your child does any kind of signing you want to give them lots of calm encouragement. The best type of encouragement for a child is the confirmation that you understand, so repeat back the word and the sign they are attempting and if appropriate give them what they want.
At first you will notice that signs aren't anywhere close to perfect. This is expected and is quite typical. Just give plenty of encouragement and keep doing the signs with good form. Over time your child will improve their signs as they replicate your form and motion.
Expanding Your Sign Vocabulary
As your child starts to master her first few signs, you can add more signs to expand her vocabulary. At first, introduce signs that follow your child's interests. So if she loves animals, dog, horse, cat, fish should be on the list for vocabulary expansion. If she is a little food connoisseur, then add her favorite food signs.
In our last post we gave you your first two signs, eat and water. Now let's add two more high priority signs: Mommy and Daddy.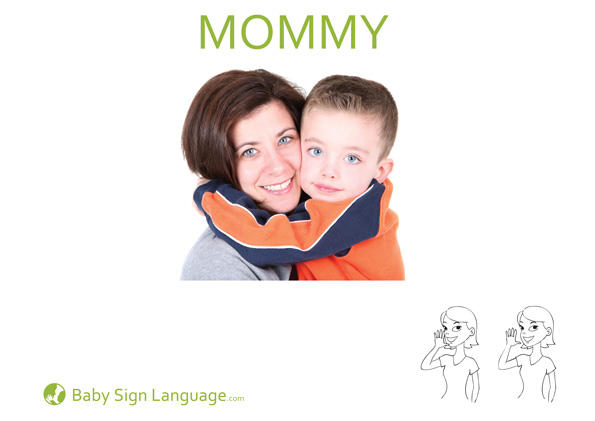 Mommy is made by taking your dominant hand, with all five fingers outstretched and tapping your thumb on your chin.
In sign language, female signs are generally made on the bottom half of the head, and the male signs on the top half of the head. So, the sign for daddy is the same as mommy, except you tap you thumb on the top half of your head.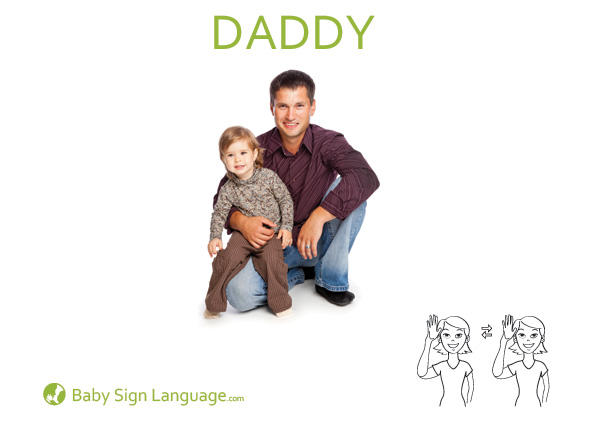 Next month in our third post we will look more closely at making sign language fun. In the meantime if you want to learn more signs, check out the
baby sign language dictionary
.
If you would like more information on how you can be a contributor to our 'a helping hand' series here on the Reece's Rainbow blog, please contact lucille@reecesrainbow.org.
Please also grab our 'a helping hand' button for your blog!

Grab This!

Be sure to right click on the box below and then select all.


You can share on facebook, twitter, via email!