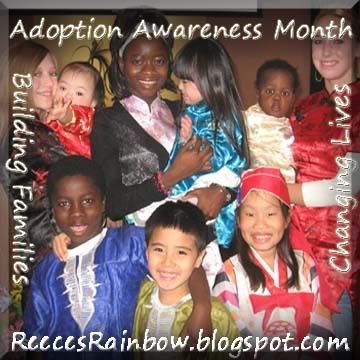 Today is a special day for the Taylor family! Today is Ben's birthday! Happy Birthday Ben! I know everyone will enjoy reading about your family.
My husband, Landon, and I (Christina) have been married for nearly 17 years now. Faced with infertility, we decided to look into the possibility of adopting. After first being discouraged by the cost and length of the process, God quickly grabbed hold of us and reminded us who was in control and could work miracles.
We were living in Kiev, Ukraine when we adopted our children. We adopted Laura Rose Irina in July 1998. She was a healthy little girl with blond hair and blue eyes. She resembled me at that age. Laura was chosen for us by the then National Adoption Center head. She had met us on several occasions before adopting our children, and decided we would be the perfect parents for Laura! She was right. Laura was 16 months old when we brought her home and she weighed 16 pounds. She quickly put on weight and learned to walk and speak.
A year after adopting Laura, we began the process of adopting Benjamin Paul Ihor. Ben was at the same orphanage Laura was. When we brought him home in August 1999 he was 21 months and weighed 21 pounds. Benjamin was born with a cleft palate and cleft lip. We did not consider adopting a child with special needs given the transience of our lifestyle. We met Ben and there was no doubt he was meant to be our son. His lip and palate were repaired months before we met him. He was not walking well when we met him and he was not speaking. After a few months with us, he began attempting to speak. We recognized immediately that he would have speech difficulties. We returned to the US in 2000 and Ben was accepted into a school where his physical, occupational, and speech issues were addressed. It was very frustrating for us and for Ben because for so long he could not communicate his wants and needs. We used a lot of sign language. Today, Ben has some speech difficulties and will need therapy once we return again to the US.
I think the part of the adoption process that was so difficult for me was the idea of "choosing" a child. I was very worried about having to choose a child based on their biography and pictures. I prayed that the Lord would lead us to the children that He had chosen for us. Thankfully, He was faithful and answered t
hat prayer. Both children we adopted were the only ones we visited and held. Seeing all the children in the orphanage that needed homes really made me sad. I couldn't imagine having to choose.
Our children are the most amazing kids. They have been through a lot in their lives. They have positive attitudes and are thankful to be alive. Both kids have Attention Deficit/Hyperactivity Disorder. This presents us many challenges to us as a family, but again God has provided us with the grace and patience we need to parent our kids.
You can follow the Taylor family adventures at www.taylorsabroad.blogspot.com
Thank you, Christina and Landon, for sharing your family with us!
To see children with a cleft lip/palate available for adoption take a peek at little Nadja on the Angel Tree www.reecesrainbow.org/angeltreesponsorpage.htm