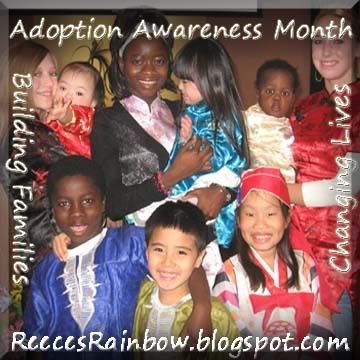 The Rieben family has been blessed in so many unique ways!  Their testimony is one of faith and perseverance!  They have five beautiful children and are such a neat family!  I know you'll enjoy their story!
My name is Valerie Rieben and my husband, Richard, and I have been married for 6 years. We currently have 5 children. Maren, Lukas and Jacob (3.5) are biological triplets and were the first to join our family in January 2005. Joshua (21 months) was adopted from Uzbekistan in October 2007. Evan (4) was adopted from Ukraine in December 2007.
After the birth of our triplets, I experienced several complications and required an emergency hysterectomy leaving me unable to bear any more children of my own. We both knew that there were more children who were meant to be a part of our family and our hearts immediately turned to adoption. We started to purse the domestic adoption of a healthy infant when our triplets were a year old, but quickly realized that was not the path the Lord intended for our family. Our hearts turned to international
adoption. We hoped to adopt a healthy child as young as possible, but our plans changed as soon as we saw a picture of our son Joshua. Although we had not set out to adopt a child with special needs, there was no doubt in our minds that this was the little boy the Lord had intended for our family. A few months later, we saw Evan's face for the first time on Reece's Rainbow and knew he was meant to be a Rieben as well.
Here is a link to the long, drawn out version: http://fromthetrenchesofadoption.blogspot.com/2007/08/lets-start-from-very-beginning.html
Our son Joshua (21 months) was adopted from Uzbekistan in October 2007. He was born with multiple limb differences (he is missing both femurs as well as the fibula in his left leg) and sacral dysgenesis. Our son Evan (4) was adopted from Ukraine in December 2007. He was born with Arthrogryposis Multiplex Congenita (Amyoplasia) in all four limbs. This condition effects the joints, muscles and connective tissues of the body.
The most surprising part of our adoptions was Post Adoption Depression. I had read about it on many occasions prior to bringing the boys home, but was very surprised to experience it myself a few weeks after the boys came home. Having experienced mild post partum depression following the birth of my triplets, I recognized the symptoms/feelings right away, but it definitely threw me for a loop.
Everyone has adjusted BEAUTIFULLY s
ince coming home! The triplets welcomed their new brothers with open arms and have enjoyed having two new playmates. After 3.5 years of having to listen from his crib to the other children playing in another room, Evan was absolutely thrilled to finally be part of all of the action, even if he could not always participate in what the other kids were doing. His English is remarkable. Within a week of being home he was already reciting his ABC's, counting to 10 and singing Twinkle, Twinkle Little Star. His language has come along so well that he tested out of speech and English as a Second Language at school! Joshua was young enough when we came home that he slipped seamlessly into our family. It took awhile for us to really learn to balance everything on our plates (doctors appts., therapies, surgeries, hospital stays, play dates, schedules, school, etc), but we have all settled nicely into a new routine and everyone is happy and well-adjusted!
The most demanding or difficult part of parenting a child with special needs for us is learning to balance all of the doctors appointments, therapies and surgeries.
There are SO many blessings and rewards of parenting children with special needs. One of the things I love the most is the added perspective my boys have given to me. My boys do not see limitations. Those of us who are "able-bodied" tend to limit ourselves to thinking inside the box. We all do things essentially the same way. When we can't accomplish something within that norm, we often give up or limit ourselves by saying we "can't." When my boys, who were assembled a bit differently than the rest of us, meet a challenge that can't be accomplished within the "norm" (walking, eating, writing, etc.) they simply find another way of doing it. They don't give up or say "I can't" they just find another way to accomplish whatever it is they have set their minds to. It is absolutely inspiring and they amaze me every day by the things that they can do. On top of that, they have so much joy in life. They appreciate the small things that most people take for granted. They infuse that joy into everyone they meet. In short, my amazing boys are my heroes!
If you'd like to continue to follow the Rieben family visit there blog at http://fromthetrenchesofadoption.blogspot.com/
Thank you, Valerie and Richard, for sharing your story and your family with us!
Reece's Rainbow has one child with Down syndrome and club feet available. Her name is Naomi and you can find her at www.reecesrainbow.org/oldergirls.htm
To see more children with limb differences, Arthrogryposis or clubbing, look for Jason, Max, Mandy, Elizaveta, and Katrina on the boys and girls'"other angels" page www.reecesrainbow.org/otherangels.htm. Also see Jacqueline, and Mara on the Older "other" angels page http://reecesrainbow.com/angelolderchild.htm.