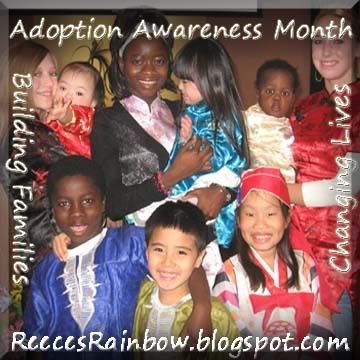 The Reed family is such a neat family to follow!  Each of their children is definitely their own individual and their parents strive to meet their children's needs without exception!  This isn't as easy as it sounds when you realize that they have eleven children!
We are the Reed Family.  My husband and I are John and Christine and we have been abundantly blessed with eleven children--- yes you read right--- five of them adopted.  Here is a quick run down in the order in which they joined our family.  Adam is 13, Caleb is 12, Julia is 10, William is 8, Andrew is 6, Jonny is 5, Sveta is 11, Anna is 10, Annalyn is 10, Rachel is 12, and Dennis is 2.
We first decided to adopt after the Asian Tsunamis during Christmas 2004.  Our New Years resolution wasn't just going to be about how we can be better, but how we could be better examples as followers of Christ.  Immediately, we knew that we were supposed to adopt.  Our first adoption was of
our two daughters (Sveta and Anna).  One has special needs referred to as Fetal Alcohol Syndrome.  She helped us to realize that all children are beautiful, wonderful, and deserving of a family filled with love, not just the so called "normal and healthy" children.  
After Annalyn and Rachel joined us, we decided to adopt from Ukraine
and God led us to Dennis.  He has amniotic banding around the face, Poland syndrome, and a cleft palate  but to us he is absolutely perfect.  What was most surprising about his adoption is that in the beginning we thought that someone had actually caused his facial scarring only to later find out that everything was congenital.  We were very thankful that he had not been physically hurt by another and would not have to carry that with him for the rest of his life.
When we brought Dennis home, it was amazing how quickly we all adjusted-- including him.  In a matter of weeks he learned to walk on his own, feed himself, climb up the stairs, chatter on and on about who knows what, and fall asleep in my arms.  Dennis has been such a blessing, that I can't even differentiate him between my kids who do not have special needs.  I guess if I had to choose one thing about him that made things a bit challenging at times would be how easily he can fall and get hurt.  This is normal for a "new" toddler but because we are so sensitive to him hurting his head or his eye we are extra cautious of him and that can be a bit stressful at times.  
With Dennis, parenting has been extra rewarding because each milestone he hits is so amazing to watch!  In the orphanage he was not allowed to do many things because of his special needs, and from the moment he left there, we watched this little boy blossom by the second. From learning to rattle a toy, to learning to chew and swallow a cookie, to brushing his own teeth, or climbing up on a stool..... all of these things have been such a blessing to witness. 
Dennis isn't the lucky one because we adopted him.  We are the ones that have been blessed because he allowed us to love him and become his parents. 
You can follow The Reed family blog and watch Dennis as he continues to grow and change everyday at http://smilesandtrials.blogspot.com.
Thank you, John and Christine, for sharing your family with us!
To see children available for adoption with Fetal Alcohol Syndrome and other special needs please visit www.reecesrainbow.org/otherangels.htm.