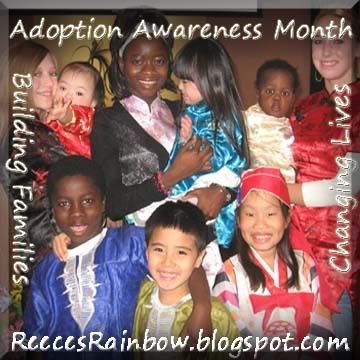 The Puderbaugh family has a lot of special children brought to their family through all different means. What a wonderful heart they both have as they now add their 20th child. They found their newest addition on Reece's Rainbow!
I am Louise Puderbaugh, wife to Stewart Puderbaugh, collectively known as "Lou and Stew." I am 50, Stew is 60, and we have been married almost 5 years. We have a combined family of 19 children, and Mattea Olena (our adoption in process) will make 20. 11 of my children are adopted (plus Mattea). One of our adopted children is "typical" and the rest have special needs of developmental delays, autism, cerebral palsy, blindness, limb differences, seizures, Fragile X Syndrome, ADD, ADHD, ODD, RAD and other attachment issues. Mattea Olena will bring the extra chromosome (Down syndrome) as well as her cardiac and pulmonary issues.
Prior to marrying Stew, in my former life, I had always wanted a large family and I was always interested in working with "handicapped kids." In elementary school, in my spare time I read about Helen Keller, cerebral palsy, and "The Family that Nobody Wanted." In high school I did volunteer work at a special school for children with Down Syndrome. Then I became a nurse, and spent half my career working with the developmentally delayed in a state facility. My ex-husband and I decided to adopt around 1993, and to my 2 birth daughters, Margie and Serena, we added 2 little boys, Peter and Christian, with developmental delays. Peter was also profoundly affected by autism and seizures.
Wow, what a challenge, but I was then contacted online by an adoption worker with another little boy with autism and Fragile X Syndrome, also profoundly handicapped, named Allen. They were all very handsome, and very challenging. Then along came Jesse, a 6 year old cutie with cerebral palsy, who had been a 28 week preemie. He also carries the terminally happy gene. A year after that, his older sister's adoption disrupted so she also came to live with us and we adopted her too, at 13---with a suitcase full of emotional problems and far more challenging than all the rest put together, but she grew on me despite it all.
Our earth angel Breanna came next, another 28 week preemie with severe cerebral palsy and seizures, and a tiny wheelchair, only 4 years old when she came home. We got to spend ten precious years with her before she decided it was time to go back to Jesus this past March. Stephanie joined our family at 13 after 12 years of severe abuse, and stayed for 3 years before we had to put her in placement due to endangerment to the other children. Our first international adoptions were Kory who came at 5 1/2 years old from Poland with limb differences, and Marisol from Guatemala at 4, totally blind. Their adoptions took place back to back but were complicated and I had to deal with an unethical agency. Several times along the way it almost fell through, so it was quite a first experience in international adoption.
After marrying Stew, we decided to try to adopt again. This time it was a newborn boy from Guatemala, our precious Estuardo, who is now 2 1/2. That process went amazingly smooth and fast and he came home at 4 1/2 months old. The following year we committed to newborn Onnolee, but at that point adoptions in Guatemala were becoming harder and harder, and with the fear of everything falling through, we finally brought her home at almost 11 months old. She has mild developmental delays in gross motor skills and in speech and language. We thought we were done after that.
Then along came Reece's Rainbow, and after a few attempts at adopting a sturdy little boy with Down Syndrome, Andrea presented Mattea Olena to me, and it was an instant bond. I was a little nervous to ask my husband as she has some pretty serious medical issues, but everything fell so into place that we both knew she was meant to be a part of our family.
I think the most amazing part is the first few seconds after I first met my children. The most profound so far was when they laid 6 week old Estuardo in my arms and he gazed up at me and we instantly bonded. But each child impacted me in their own special ways.
And... we never stop adjusting. Every day brings new surprises, rewards and challenges. The hardest thing to deal with is attachment difficulties--- lying, stealing, manipulation. I want to believe my kids are innocent so it's hard for me to accept when there is property destruction, stealing, etc. The most demanding part is definitely, absolutely the laundry.
The most rewarding part of parenting a child with special needs is just watching them grow and progress through life, and the feelings of unconditional love. Every little step is a huge leap and I am very proud of all of them.
If you'd like to continue to follow their family journey visit their blog HERE: http://www.puderbaughfamily.blogspot.com
If you would like to support their current adoption financially go to www.reecesrainbow.htm/sponsorpuderbaugh.htm
Thank you, Lou and Stew, for sharing your family with us!