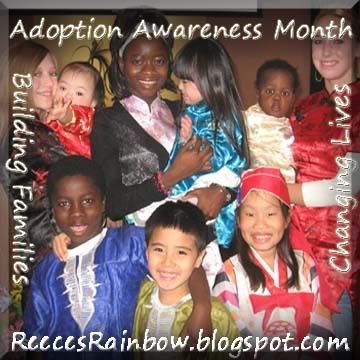 The Outman family has a beautiful story of how a relative with Down syndrome can change the course of a family's life-- FOR THE BETTER! I know you'll enjoy reading about their family built through adoption and their inspiration as well.
We are the Outman family. Julie, Jim, Matthew (3 yrs. old, domestically adopted) and David (2yrs. old, adopted in June 2008 from Serbia).
Adoption has been part of our plan since we were first married. After realizing we would likely not be able to have biological children, we quickly decided to move forward to adopt domestically in 2004. We adopted our first son as a newborn in April of 2005. We very quickly decided to adopt again, and prayed that the Lord would bring the right child for our family at the right time. After waiting for almost 2 years on our domestic adoption agency's waiting list, my heart kept being drawn to international adoption. I did not really believe it was an option for us because of the large expense, but in Nov. 2007 it became clear that God had a plan that involved both international adoption, as well as a child with special needs.
Because I have a brother with Down syndrome, Jim and I have a very special place in our hearts for people with disabilities...particularly Down syndrome. We read a news release in mid November of 2007 that spoke of the poor treatment of children with Ds in Eastern Europe. The pictures of the children I saw in this article reminded me of my brother Stephen, and I read how they were made to live in "mental institutions" if not adopted from their orphanages by age 4. It broke my heart, and for days whenever I closed my eyes all I saw were these children. Close to that same time, I was directed to look at the Reece's Rainbow website. My sister had also been touched very deeply by this article. We looked at these little faces and began our quest to rescue a child.
We adopted our little David from Belgrade, Serbia in June of 2008. We began our process
officially on December 5th of 2007 (when we committed to him on Reece's Rainbow) and we were holding him in our arms on May 30th of 2008. David turned 2 years old on June 2nd, and he has Down syndrome.
The most surprising part of the adoption process for me was how emotionally draining it can be. There were times during our process where we felt like losing hope that we would one day have our little boy home. There was political unrest in Serbia in February of 2008, and at that time we believed there was a good chance we would not be able to safely travel to Serbia. We looked briefly into other countries that might give us a more certain outcome, but kept coming back to this little angel that had already stolen our hearts. We are so thankful that God gave us the endurance and courage to continue on, even when the outcome was uncertain.
David has adjusted quite well to being home. He was quite "distant" for quite some time in the beginning. He would rarely make eye contact with us, and was very stressed with new people and showed some disturbing "orphanage behaviors" such as hitting his head on the rails of his crib when going to sleep, etc.. He has been home almost 5 months now, and he has blossomed into a very social, happy boy who has come out of his protective shell very nicely. He is playful and cuddly, and I see him growing and thriving right before my eyes.
So far, I have not experienced any difficulties in having a child with special needs. David is a very easy child to deal with. I have more challenges with my 3 year old at this point, lol...but I'm sure we will have challenges with David as he grows more independant as well. One area that I anticipate some difficulty is when it comes time to make some decisions about David's education. We plan to homeschool both boys, but homeschooling a child with special needs will bring with it a few more challenges, I imagine.
To me, the most rewarding part of parenting a child with special needs is the honor of being exposed to a child that is not so polluted by the world. The children and adults that I know personally who have Ds are blessed with a child-like attitude. I imagine over the years, Did will teach me many valuable lessons on what is important in life. My brother Stephen has certainly done that.
You can learn more about our family and see some pictures by visiting the Outman's blog at www.love4ourboys.blogspot.com .
Thank you, Julie and Jim for sharing your experiences!
More children with Down syndrome can be seen on the Christmas Angel Tree Project, http://www.reecesrainbow.org/angeltree2008.htm ALL of these children are currently available for adoption and the grants that are being raised are to help a prospective family to bring them home!