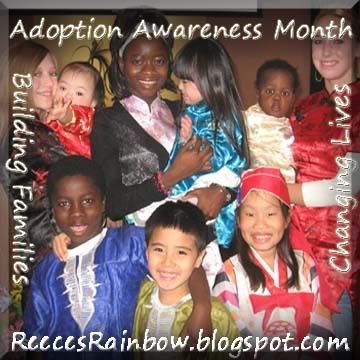 Kevin and Joy are a kind and very compassionate couple that have a heart for children.  They are really thankful in everything and are an amazing family!  Enjoy their story!
We are Kevin and Joy McClain and have been married almost 15 years. We have 5 adopted children so far: Billy is 14; Scheri and Teresa both 12; James, 10 and Caleb, 4. We are in the process of adopting another little boy who is 5.
When Kevin and I got married I was already 33 and wanted to be a mommy so badly but pregnancy didn't come as quickly as I had imagined it would. One day I was looking in the newspaper and saw an advertisement for an upcoming class for prospective foster parents and just thought, "That's something I could do." Various children ages 0-5 were placed in our home, some just for a weekend, and some for a few months. Then in March 1996 Billy was placed in our home. He was 20 months old, so tiny and developmentally delayed. Caring for him became part of my salvation when I miscarried about a week later. Watching his progress was so rewarding. In July of that same year his half-sibling, Teresa, was born and placed in our home as well. I had the extreme privilege of attending her birth. Their adoption became final in March 1999.
In April of 2000 we received another call from Health and Welfare concerning a 22 month old boy. The timing seemed so horrible.
We had sold our house and at that moment didn't know where we were going to move. We were also babysitting a friend's 2 year old for a couple weeks. But curly-haired James joined our craziness. Two weeks later we moved into a TINY house and two weeks later moved again into our present home. His adoption was final in December 2000.
About that time we received a phone call from an extended family member in Georgia: a 5 year old girl needed a home. She was an answer to prayer because I'd been feeling that our family was not complete. In January of 2001 we drove to the Boise airport and welcomed Scheri to our family. Her adoption was finalized September 2002.
I spent months and years looking at children on various online adoption sites. We unsuccessfully tried a couple international adoptions and submitted our home study to scads of domestic adoption workers. I became part of a group called Reece's Rainbow and in June of 2007 we committed to the adoption of a little boy from Ukraine and we brought him home in February 2008.
All of our children have special needs of one kind or another but many are considered quite mild. Billy has an autistic spectrum disorder, fetal alcohol exposure, ADD. Scheri has ADHD, sensory integration disorder, auditory processing disorder, attachment disorder. Teresa has ADHD, sensory integration disorder and probably fetal alcohol or drug exposure. James has ADHD, very mild cerebral palsy, nasal allergies. Caleb has Down syndrome. I don't know that we really set out at first to adopt kiddos with special needs, the special needs just came along with our children. However, by the time we got to Caleb, the decision WAS purposeful—we already had experience with speech and physical and occupational therapies and special education and other services so it didn't seem like such a big deal; besides in his birth country there is no future for children with Down syndrome.
The most rewarding part of having children with special needs is that every bit of progress is something to celebrate. It is so much fun to watch Billy and Caleb learn things. Teresa's ADHD was a great blessing in teaching Billy to talk. I hope my kids are also more sensitive to the needs of other children at school.
As silly as this sounds, the most difficult thing for me on a day-to-day basis is the constant mess. With short attention spans and easy distractibility many of our kids still just drop whatever they're holding when their minds switch to something else. Another difficult thing is having to repeat the same directions day after day. Honestly, these two simple things 'bug' me the most. Other challenges include more-frequent doctor appointments and other busy scheduling issues; trying to keep everything straight in regard to medications, paperwork, schoolwork, etc.; trying to make sure I am getting each child the help they need; dealing with Billy's temper tantrums and making holes in the walls. We have also had about 5 ENT surgeries and one eye surgery (all of these were same-day procedures)
With our children adopted from foster care, I think the most surprising part of the process was how long it took to complete.
Caleb's adjustment to our family has gone amazingly smoothly. He is a very happy, easy-going child who just goes with the flow. The older kids love him very much. I would say that the most difficult adjustment has been with Scheri who has attachment difficulties. Though very loved in her previous homes, she had been bounced quite a bit, had experienced a lot of grief and loss, and was already nearing her 6th birthday. Teresa had been the only girl in our family—and a Daddy's girl besides—and I think it was just tough for Scheri to find a place to fit in. She is doing considerably better now but we still do counseling now and then and I have used materials from Nancy Thomas.
If you'd like to learn more about the McClain family and follow their upcoming adoption of their newest son from Eastern Europe, follow their blog at www.considertheadoptionoption.blogspot.com Joy chose that name because she absolutely loves adoption. "Without it I would not be a Mommy," she says.
Please consider sponsoring the McClain's adoption journey as well by going to www.reecesrainbow.org/sponsormcclain.htm
Thank you, Joy and Kevin, for sharing your story with us!!
There are a lot of children with Down syndrome and other special needs just waiting for a family to come and get them!  Visit the Christmas Angel Tree at www.reecesrainbow.org/angeltree2008.htm to sponsor a child with Down syndrome.  Visit www.reecesrainbow.org/otherangels.htm to see available children with other special needs.