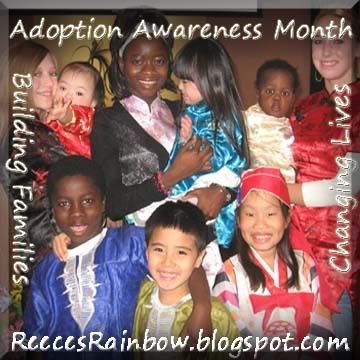 The Lindsay family is a beautiful family with a real heart for children with special needs. Though their biological children habe no unusual special needs, they've been called to fill the need for families with Down syndrome abroad! And what a beautiful family they have now!
We are James and Kelly Lindsay, parents to 6 almost 7. Alexander is 14, our biological son with no special needs. Zachary is 13,our biological son with no special needs. Nikita is 12,our biological son with no special needs. Amelia is 7, adopted from Hong Kong at 2, and has Down syndrome. Micah is 6, adopted from Hong Kong at 3, he has Down syndrome. Dante is 3, adopted from Hong Kong at 13mos, he has Down syndrome. We are in process adopting Sunny, 7, living in Taiwan, she has Down syndrome.
We decided to adopt because we wanted more children. Adoption had been something we thought we might someday do, but when it came down to wanting more kids we tried for pregnancy. (Our bios were 6,7,8 at the time). God said no, and we knew it was adoption then.
My sister has Spina Bifida, so I grew up knowing a lot of families who had a kid with special needs because of my mother's involvement in the support group. Therefore it made sense for me to put myself through college working at a group home, and I also was a respite provider for families with special children. (Basically a highly trained babysitter!) This gave me lots of hands on experience with babies through elderly special needs people.
My then fiance (now husband) also began to work for the same agency, thus beginning his experience in this area of life. Back to why special needs--- quite frankly when we made the decision to adopt one of the first thoughts is it is SOOO expensive....then we saw the Hong Kong program--- much more reasonable in fees, but special needs only. And families were needed for kids with Down syndrome, and I happened to have worked with many children with Down syndrome. So that was how we ended up with that program.
Micah is the only one of my kiddos who had significant medical needs other than just Down syndrome, and they were resolved before we adopted him-- repaired VSD (heart defect) and feeding issues.
The most surprising part of the process is the constantly changing time line. No due date. Why don't the government people who need to sign off on everything have the same urgency I do to get these children home??
Our adjustments have been almost seamless. With Amelia, our first, I was so paranoid that I would forget her if we went out somewhere and she was napping---of course I didn't. The only adjustment has really been not being able to go on family bike rides and such, now dad takes the big kids somewhere or I do. There have been no complaints, though.
My kids do not have significant medical needs so there is nothing demanding in that. Having a 6 year old not potty trained is frustrating I suppose. Their lack of awareness of personal safety issues is very frustrating. Both Amelia and Micah have no problem going off on an explore without telling me. Micah loves to slide down the stair railing or hang from the monkey bars and give me heart attacks.
The most rewarding part--- seeing their innocence and unconditional acceptance of everyone. They no nothing of stereotypes and have no pre-conceived notion of how they should react to someone other than a happy greeting.
If you'd like to learn more about the Lindsay family and follow their journey through adoption you can visit their blog at www.lindsaykids7.blogspot.com
Thank you, Kelly and James, for sharing your family with us!
More children with Down syndrome can be seen on the Christmas Angel Tree Project, http://www.reecesrainbow.org/angeltree2008.htm ALL of these children are currently available for adoption and the grants that are being raised are to help a prospective family to bring them home!