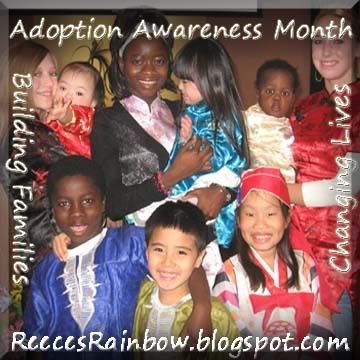 The Lease family is such a beautiful family! With so many different journeys to have each child they are just amazing. Enjoy their story!
Hi, we are the Lease's. Sean, Lisa, Zachary, Ryan, Kyalynn, Connor, Gabriella, and Nolan. Our two oldest children grew in my belly and the other four grew in our hearts. Our journey to adoption was long....5 years long! God laid it on Lisa's heart to adopt a little girl from Asia but it took Sean five years before he felt the call to adopt. When we finally pursued adoption we were adamant that we wanted a healthy child. However, God had other plans. Our social worker called us one night and said she didn't think we would be interested but she received a call about a waiting child, a girl. We KNEW this was the child Lisa had been praying for all those years. We met with our social worker and she went over her medical history with us. We were told she had a slight hearing loss which labeled her special needs. We accepted her referral and Kyalynn Da Seul came home from Korea on March 4, 2004. She was 15 1/2 months old. What a beautiful gift we were given!! Then we felt the call to adopt again about 6 months later and began searching for another little girl. We wanted them to be close in age so we looked thru the waiting child photolistings. After a while we decided we were open to whomever God had planned for us and soon after we accepted the referral for a little boy only 1 month, 1 day younger than Kyalynn. He was developmentally delayed, hyperactive, and possibly mildly mentally retarded. Connor Myung Hoon came home June 12, 2005 at the age of 2 1/2 years old. Kyalynn and Connor bonded easily and they became two peas in a pod
. Again, 6 months later we again began looking and found another waiting child that we were interested in but unfortunately she was not in God's plan for our family. After several months the search began again and we found our last Korean blessing....Gabriella Ye Rim. She was a waiting child and had been waiting for a long time due to her medical issues. She has hypoparathyroidism but at that time they weren't sure exactly what she had. They had her labeled with several different medical issues. After much research and conferring with specialists we decided to accept her referral and she came home October 12, 2006 at the age of 18 months. Since then we've also been blessed with little Nolan Elijah. He came home at 11 days and does not present with any special needs.
Kyalynn and Connor are both almost 6 years old now and Gabriella is 3. When Kyalynn was 2 1/2 she was diagnosed with autism, complete deafness in one ear and hard of hearing in the other ear. Connor has since been diagnosed with central auditory processing disorder.
The adoption process has many ups and downs but the most surprising part was that immediate connection we felt upon holding our children for the first time. They were ours, totally and completely. Our adjustment was different with each child. Kyalynn's adjustment was smooth, Connor's was much harder and Gabriella, due to her medical issues, took over 6 months for her to adjust because of medication changes to balance her body.
The most demanding and difficult part of parenting children with special needs, for us, is the emotional and mental strain of trying to nurture, train and teach them where they are at and not have your expectations so high they can't attain them. The most rewarding part of parenting these precious ones is the growth we, as a family, have attained. We are a team. We work side by side and our hearts are so much bigger now, not just for orphans but for ALL God's children. The little things they accomplish are HUGE for us and for them. Before these children entered our hearts our world was so limited, so small. Now, our world has expanded to include those that are often overlooked and to see them as precious gifts with so much to give and share. We can learn so much from them! We are truly blessed beyond measure.
I know you'll enjoy following the Lease family through their blog! www.mountaintopmemories.blogspot.com
Thank you, Sean and Lisa for sharing your family with us!