My apologies, this post was set to go yesterday but due to the holiday I didn't check on it and sure enough, it didn't go. I hope you all had a wonderful Thanksgiving!

HAPPY THANKSGIVING TO YOU ALL!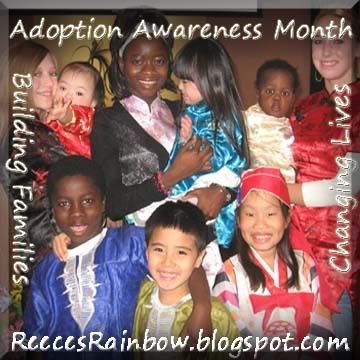 Following God's plan for their family in spite of their different original desires, the Leahy family has expanded their family through the adoption of one very special little girl :)
We are Dennis and Debbi. We have been married for almost 8 years now. We have been blessed with two beautiful children so far. Colin is biological and Tatum came to us via China. We hope to add one more before we are done!
Our son Colin turned 3 in August. He is a very gentle soul and a joy to be around. Although, he does not yet speak, he is very expressive and has the best giggle! He loves numbers and letters and is a fish in the water.
When Colin turned 2, we started discussing the idea of expanding our family. Our talks kept winding up in the same place…adoption. We had first brought up the idea while we were still dating. Through teaching dance, Debbi had come to know a few families that were built through adoption, both domestic and international. We both felt that it was something that we would someday undertake.
We began researching programs and felt that we would choose a country that had escorting available. With a young child already at home, surely that would be the way to go! We also thought we would apply for a little girl who was as young as possible and "healthy". Well, that wasn't God's plan!
As Debbi did more research, she found a little girl with Cerebral Palsy in Korea with a smile that could light up a room. Although, it was not meant to be, she opened the doors through which we would travel. China began calling to us as we learned of all the children who are abandoned. We began discussing the needs that we would feel comfortable with and all seemed pretty manageable. Again, not His plan!
One day, Debbi received an email that an agency had a new waiting child list. On that list was our daughter. There she was staring at us with big brown eyes and a rather large cleft lip and palate. We were put on the waiting list to view her file, but told that a family had already committed to her and there were two other families ahead of us. As it turns out, all the other families pulled out. Not only did she have a cleft lip and palate, but also very high levels of lead in her system.
After 10 months of waiting, we boarded a plane for China. Colin came along to meet his new sister. He was amazing the whole trip! We met Tatum on July 7th and she immediately clung to Daddy. It took Mommy and Colin a bit longer to become just as cool in Tatum's eyes!
We have been home for 4 months now, b us it seems that we have always been a family. Tatum has blended in seamlessly and everyone loves her. Her smile is infectious and she is always waving to someone wherever we go.
Tatum has had 2 surgeries so far. The first closed her lip and nose. Three weeks ago, she had another surgery that closed her hard and soft palate. She also received ear tubes. She is doing amazingly well, but can't wait to eat solid food again!
She will need at least 2 more surgeries in the future, but we will take these as they come.
Our children have taught us to slow down and even the smallest of things. They are the greatest joys in our lives! The most rewarding part of raising them is the love that they give. It is also amazing to watch the relationships blossom as we move from strangers to family.
The most difficult part would be getting over your own self-doubt and realizing that, with God's help, you can handle the challenging times.
Continue to follow the Leahy family at www.monkeymooandtootsie.blogspot.com
Thank you Dennis and Debbi for sharing your family with us!