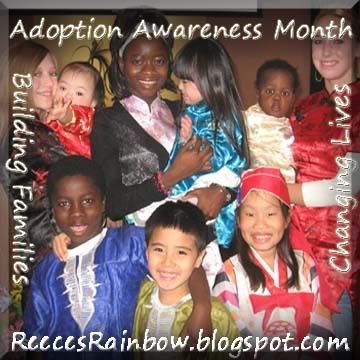 The Lambert family has many little ones, each with a special story!  They are such a beautiful family, I know you'll enjoy their feature today.
Hi I we are John & Carla Lambert. We have 3 biological children: Marissa (21), Johnathan (16), and Emilea (14).  We adopted Jackson (11-Thailand) he is Hep+ and Thalassemia (alpha).  Ethan (10-Thailand) Schizencephaly (cp), epilepsy, cognitive delays.  Kaylea (8-Thailand) arthrogryposis, scolisosis, club foot (unrepaired), g-tube, RAD, failure to thrive.  Owen (7 -China) Arthrogryposis, CP.  Rubea (2-China) spina bifida, tethered cord, bilateral club feet, scoliosis, holoprosencephaly, developmental delays.  We are waiting to bring home Rylea (3-Vietnam)  CP.
We decided about 7 years ago that we would like to have more children. We had met a family with a little girl from Thailand that was so sweet and special to us that we decided that Thailand is where we should go to adopt!!  We found an agency and they had a few children to chose from and we chose our son Ethan! All we knew before meeting him was that he had Cerebral Palsy.  He was such a joy to have around we decided to adopt another child from Thailand. We happen to find a girl with orthopedic needs that had been left in Thailand by another American family.  Right away we knew she was meant to be our daughter.  While waiting for her to come home, we were contacted about a boy in China with the same need.  After much prayer we decided to bring him home, too!  We have since brought home two more children and are waiting for our last child in Vietnam.
God is always opening new doors for us to enter and we keep saying "yes"!  Once we adopted Ethan we knew that we would only adopt kids with special needs. We realized that they were the children that NEEDED families.  We knew they would be the ones to be left behind and forgotten and we knew this was our calling in life.
The process for each adoption has been fairly uneventful other than a few immigration snags. Once we have our children in our arms, the long process is soon forgotten.  Most of our children have adjusted and bonded quickly to the rest of of our family.  Our kids are all very close and get along really well.  We have one child that has some attachment issues, but we are managing with some counseling for the both of us.
The most difficult and demanding part of parenting multiple children with multiple special needs would be juggling the doctor visits, therapies, and educational issues weekly. Otherwise, they are our children and their special need is just apart of who they are, however, it does not define them.  The most rewarding part would be that we are all extremely happy! The kids are all close and best friends. They love us and each other unconditionally and we of course, love them right back!  We have a front row seat into their lives and are amazed at the progress that each child has made and the obstacles they have overcome. We just feel so blessed that God chose us to parent them!!!!
Thank you, Carla and John, for sharing your family with us! 
If you'd like to see children with special needs including CP and Arthrogryposis that are waiting for their forever family please visit the "other angels" pages of Reece's Rainbow.   www.reecesrainbow.org/otherangels.htm