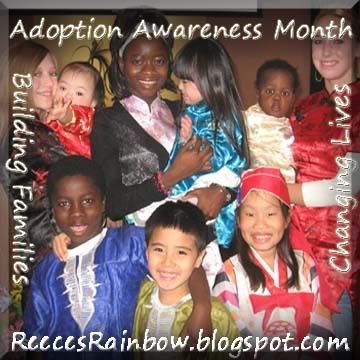 The Hopfenspringer family found Reece's Rainbow and wasn't looking to expand their family, but someone had different plans! Their story of finding "that one" and then jumping is wonderful!
We are Beth and Larry Hopfenspringer. One year ago I was totally happy with the size of our family and then I started looking at the Reece's Rainbow web site. We
had two biological sons, our youngest with Down syndrome. Now our family has grown by one which makes us a family of 5! Alex, our newest son, is a high energy 4 year old boy who likes to explore, laugh, swim, swing, play, snuggle, wrestle, eat, ride in the car, go shopping, go on carnival rides and even likes to help with chores like bringing the dishes over to the sink, sweeping and mopping! I was a little nervous about how our 6 year old son, Franklin, would react to Alex since he is so shy, but he loves having Alex around and tries to give him lots of kisses. Some of Alex's energy is rubbing off on Franklin since we have been home-- Franklin has learned to jump and is swinging in a big kid swing and some of that shyness is fading away too.
The 4 1/2 month adoption journey (yes, it really only took that long!) has been an adventure of a lifetime and we are all forever changed by this experience. We are one of the few families that brought our biological kids overseas for the adoption and it actually went very well. What a wonderful feeling it is to be safe at home with our new boy and a great future ahead for all of us.

You can visit the Hopfenspringer family on their blog www.hopfenspirger.blogspot.com
Thank you, Beth and Larry, for sharing your family with us!
If you'd like to see more children with Down syndrome available for international adoption go to www.reecesrainbow.org/angeltree2008.htm