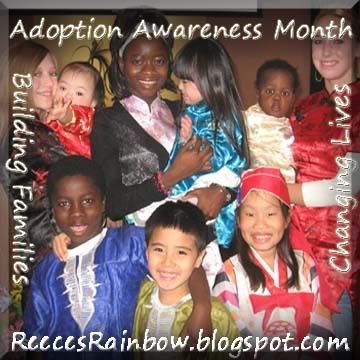 The Green family is a beautiful family with lots of love for special kiddos! After two biological children with special needs they went on to add one more—and another on the way! Here's their story…
Randy and I (Sheila) have been married for 11 years. After 3 miscarriages, we were blessed with a healthy baby boy, Michael. Our daughter, Caelia, was born 5 years later and was diagnosed with Down syndrome the week after she was born. Michael was diagnosed with Aspergers syndrome at age 9.
We wanted a large family and adoption seemed the best choice for us. We considered many things before deciding to adopt a child with Down syndrome from another country. Michael is a bright friendly boy who has trouble with social interactions and with making peer friends. Caelia makes friends easily but she was having trouble keeping up with the games the other children play as her friends mature. We wanted her to always have someone that she could always relate to – a sister. We wanted a child with Down syndrome. We have experience with Down syndrome and Aspergers syndrome – Down syndrome was chosen because Caelia was younger and because Michael did not want to share his room. We chose international adoption when we became aware of how far behind the United States some countries are in their treatment of individuals with disabilities.
I was surfing the web one day and found Reece's Rainbow. I contacted Andrea and she sent me a group of photos and information on some girls that she knew of. In that list this picture of Lera (left).
This is Caelia (right)– see a resemblance?
The journey was long and frustrating and Lera was worth it a hundred times over. Caelia and Lera are best friends. Michael dotes on Lera as much as he does Caelia . She has Daddy completely smitten and I finally have a mama's girl! Lera is sweet and loving and funny and she is so much a part of our family that it seems like she has been with us forever.
Parenting is challenging. I have no idea if it is more challenging than a "typical" child. This is all we know and we love it. We have to take things a bit slower and each milestone is cherished and celebrated and we manage each hurdle together as a family.
Adoption has been such a positive thing for our family that we are adopting
again. This is also an international adoption and our newest little one also has Down syndrome. This is Masha.
Her birth family found Reece's Rainbow in the hope of finding her a forever family. She is doubly loved and we are anxiously waiting to hear of our appointment date.
To follow the Green family journey and their adoption of little Masha, visit their blog at www.sunflowerchronicles.blogspot.com.
If you'd like to see the Green's family profile and help them with adoption expenses for little Masha, go to www.reecesrainbow.org/sponsorgreen.htm.
Thank you, Randy and Sheila, for sharing your story with us!
To see more children with Down syndrome available for international adoption visit www.reecesrainbow.org/angeltree2008.htm