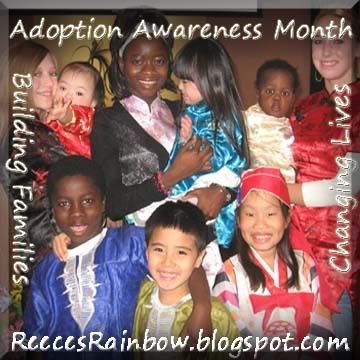 The Delrosario has a wonderful story of an unexpected blessing as they approached international adoption with an open mind and open heart. Their story is touching as tell how they embraced their new daughter! Katya was a child that was known through Reece's Rainbow and we are so glad to know she found her forever family though they didn't find her through Reece's Rainbow :)
We are Giovanni and Tracey Delrosario. We have eight children. Five boys and three girls ages 17-2. We decided to adopt because we love our children and wanted to provide a home to a child in need of one. We looked at all the options and decided international adoption was the way for our family to go. We started out looking for a girl about 5-7years old in Russia. We thought our child would have a physical handicap like missing limbs, blindness, deafness, Cerebral Palsy or something like that.
Through the many obstacles in international adoption we ended up in Kazakhstan. We were planning on adopting a three year old with vision impairments. Things were not the way we were told with her and we asked to see other children. We never thought we'd adopt a child with Down Syndrome. We weren't against it, it just wasn't something we had considered. They showed us two children with Down syndrome, one with FAS and one with severe cerebral palsy.
We chose Katya. She was two and a half and just learning to walk. Her group didn't receive much stimulation or services. They were basically left to watch T.V. or roll around on the floor with a few toys. Her group was considered the severe special needs group. She understood what her caregivers said in Russian and Kazakh but wasn't speaking. She ate no solid food. She was fed from a coffee cup with soggy bread or cookies in a broth.
The first year home with her she changed at lightning speed. She learned to chew, walk, talk, sign, and live in a family. She gained 12 pounds the first six months. As she became stronger she started moving more. Now she is into everything. Our children didn't think it strange at all to add this little one to our family. It seems normal to them. She is as much their little sister as their biological sister is, they see no difference.
I thought things would be much different after we got home. They really aren't. We don't have therapy appointments or many doctor appointments. Katya is healthy and needs no extra services. The only thing we have done differently has been to be more intentional in our parenting. We are aware of some of the pitfalls families with Down Syndrome fall into and we watch to stay out of them. The things our older kids learned naturally we intentionally teach Katya. It takes a bit more work but in the end it is worth it.
Our youngest child is a year younger than Katya. She is actually enjoying the activities we do with Katya. It has helped Katya also to have a sister so close in age to model after. They play well together and they fight well together. What one does the other is not far behind. In the beginning I felt like they were tag teaming me. As I cleaned up a mess one made the other was getting into something else. Now they go along together and make one big mess!
Katya has taught us to be more patient. She has also taught us to be purposeful how we live. Don't leave things to chance. Take the initiative. She has also taught us a tenderness we didn't have before. We can't imagine life without our Katya now. What started out a surprise has become a blessing.
If you'd like to follow along the Delrosario's journey, check out their blog HERE: www.delrosarioadoptionsaga.spaces.live.com
Thank you Giovanni and Tracey for sharing your story with us!
More children with Down syndrome can be seen on the Christmas Angel Tree Project, http://www.reecesrainbow.org/angeltree2008.htm ALL of these children are currently available for adoption and the grants that are being raised are to help a prospective family to bring them home!