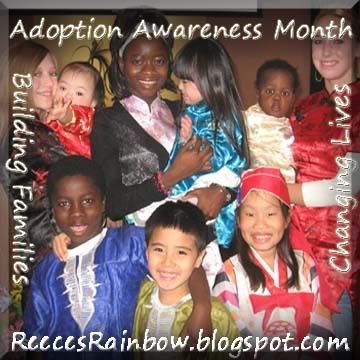 When we sent out word to the Reece's Rainbow family and friends that we were looking for adoption stories to celebrate Adoption Awareness Month, I was pleased by the number of moms that wrote back saying they'd be happy to participate. What I was even more intrigued by, though, was this story from the perspective of the teenage sister... Big sis to FIVE little siblings ages 1, 3, 3, 3, and...3, four of whom have Down syndrome. I know you'll love what Janie has to say!
My name is Janie. I am 16 years old and I'm the oldest of six kids…Alex, Michael, Katie, Sara and Myia. Our parents are Lisa and Peter. My mom said it would be a good idea to write our story from my point of view. Since we have adopted five times in the course of the past four years, I have a pretty good idea of how the adoption process goes.
My parents decided to adopt because they couldn't have any children after me. I am their only biological child. They also felt that God was calling them to adopt someone with Down syndrome. My mother's brother, Stephen, is twenty-six and has Down syndrome and we all love him so much.
I have a very special bond with my uncle and he is my friend. I was so excited to hear that my parents were deciding to adopt.
My mom had been a part of Reece's Rainbow for a long time and we had seen a number of children on the Angel Tree that we felt drawn to.
Finally, after receiving a home video of children from a lady who went to Ukraine, we found Victoria.
We have named her Katie and she is almost four. We felt especially called when we found out that her birthday was exactly a week after my brothers' (Alex and Michael were born on the same day). She is a beautiful little girl with Down syndrome, like my siblings Alex, Michael and Myia.
When I found out how long they had to be away when they traveled to Ukraine to adopt Katie…it made me a little nervous. My aunt and uncle graciously agreed to come and stay with my siblings and me. My grandma also came almost every day, which was such a blessing.
When my parents were in Ukraine, one of the biggest blessings for me was the ability to talk to them on the computer. Thank God for Yahoo Instant Messenger!!
Katie has been home for almost a month. She is a sweet and lovable little girl who is quite a character. Her quirky little sense of humor and personality have helped her to fit right into our family. Originally she was not too keen on us, however. J Especially since a week after she came home we went to the beach in North Carolina for a two week vacation with my mom's side of the family. As we do every year. I told my mom that it was funny that Katie had spent more time at the beach house with us than anywhere else besides the orphanage.
I haven't had to parent any of my siblings; I am far too immature for that. But I do realize what a huge responsibility caring for four kids with special needs is. They are not that different. They are simply a little slower with learning things. But they do learn. I see kids with Down syndrome and I think of that passage in the Bible about "entertaining angels unawares". They are my little angels. And although we have differences of opinion, as all siblings do, God has truly given me five little pieces of happiness.
I have an amazing appreciation for my siblings. They are the best part of my life and God has poured blessings on me through them. Seeing them grow and learn and laugh and pile on top of me on occasion is such a joy. I am sure that I would not be the girl I am today without them.
Each of them has a unique and individual personality that cracks me up and I feel honored to be there big sister.
Thank you for reading this little peek at my family. I hope that this will encourage you to consider an adoption of your own.
Thank you, Janie, for sharing your siblings and your loving perspective with us! And thank you Peter and Lisa for your daughter's view of your family journey!