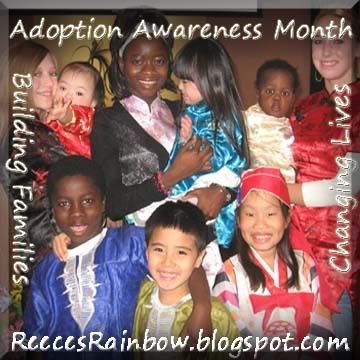 Hi there, yes, it's me, Meredith, resident blogger. I am blessed to count our family among those that have adopted children with special needs and would like nothing better than to share with you on this day of Thanksgiving the many joys our family has shared this year. Here's a little about my own family's adoption…
We are Michael and Meredith Cornish and last fall when Mike and I had been married for a little over 6 years we felt the call for adoption. Adoption wasn't anything new to us… both of my grandmothers had spent time in children's homes and my parents adopted two of my 5 siblings. Mike and I had two biological children, Kristopher, now almost 5, and Brianna, now almost 3. When Brianna was 2 months old we were surprised by a diagnosis of Down syndrome, but rather than fear, loss, or sadness over this diagnosis, we soon learned that it was an answer to our prayers. Mike and I had considered special needs adoption before her diagnosis but this was our 'yes' that this was our time!
Our original intention was do adopt domestically a child with any range of special needs, but we did focus more on Down syndrome. During a search online I once again ran across a website I'd "watched" for some time called Reece's Rainbow. With no expecta tions for our plans to change, I decided that I wanted to encourage this ministry and wrote a simple letter to the director, Andrea Roberts, thanking her for advocating for children with Down syndrome and letting her know that we were considering adoption ourselves but were focusing now on domestic adoption.
Within minutes I had a reply, within hours my husband had said "Yes" to international adoption, within days we had been introduced through photos and profiles to children that might fit in our family, within a week we'd committed to the child we thought would be our daughter, and within a few short months we were traveling to go meet her!
Our adoption took some unexpected turns during our paperwork part of the process when the daughter of our hearts was transferred to a mental institution due to her age. We knew it was a possibility but were hoping that she would be able to wait at the 'baby house' until we got there. When we did travel it was with the knowledge that there was a possibility that we wouldn't receive her referral, and even after that, that we might not be allowed to adopt from the specific institution she was at—one that had never had any adoptions and was unknown even to the state department of adoptions in Ukraine.
Our prayers were answered when we did meet this daughter of our hearts, 5 years old, walking, communicating, feeding herself fresh fruit, and in a very well-cared for institution setting. She smiled when she saw us, played with us, and cried when we said good bye that first visit. Our fears were also realized when our adoption was denied by the orphanage director. Due to many reasons that I just don't have time to share here, we had to say goodbye and after spending a week in her city returned to the capital city for another week, seeking out what God had for our family after this devastating blow.
The answer was clear very quickly, and we requested a referral for another little girl with Down syndrome. This little one was almost 5 years old, had been in a crib her whole life, had a major heart defect, and was not able to sit up or even hold her head up well. We had learned of her during our paperwork phase of adoption and at one point had even tried to figure a way out to adopt her and our other little one at the same time, but it seemed impossible. God worked it out that she would come home to us after all.
We met little Daria- later to become our Emma Hope- as well as a little boy named Daniil- our Micah Daniel- and quickly took to them both. Blonde haired, blue eyed tiny little kids, Emma was 17 pounds at 5 years old and Micah was 11 pounds at 18 months. This definitely wasn't the adoption we had visualized with these two children who were essentially infants and both very sick… but it was what God had for our family and we knew that since He had directed
us there, He would provide for us as well!
Micah and Emma came home to our family in March of 2008 and since then have entered seamlessly into our family! Kristopher and Brianna survived the 7 weeks without Mommy (4 without Daddy too) and welcomed their new siblings without hesitation. Micah quickly gained weight, strength, and gross motor skills and now is cruising furniture and crawling all over the place. He's made up quickly for any lost time in the orphanage!
Emma went through a heart cath, tonsil and adenoid surgery, and then open heart surgery since coming home and after recovering from her heart surgery in August she has made tremendous gains including gaining weight, beginning to eat
pureed food from a spoon (both were completely bottle fed), learning to sit steadily, gaining complete head control, and now even baring weight on her legs/feet with support and bracing!
The most demanding part of parenting my four little ones, three with special needs, this far has been the many initial appointments we've had with the new kids. Both of our adopted children had significant medical issues in addition
to having Down syndrome and we have spent 4 total weeks at hospitals and had over 30 doctor's appointments between the two of them this past 8 months. We are so blessed to have the support of wonderful grandparents and friends that have been willing to step in and help with childcare so that all of the kids don't have to attend every appointment with me, and Mike's work has been very understanding of his occasional time off to be with our other children whenever someone has been hospitalized.
Without question, the most rewarding part of parenting children with special needs is the love that they return unconditionally. A smile, hug, laugh, kiss, a new skill learned and the joys and struggles that go into each little step. I'm honored to be called "mom" to each of my four children!
Thank you for reading our family's story, you're invited to view our blog at www.cornishadoptionjourney.blogspot.com to learn more about our family.
If you haven't checked back recently, please go to the Reece's Rainbow Angel Tree and take a look at all of the children with Down syndrome that are waiting for their forever families! New children are being added as they arrive in our database, and it's exciting to watch each of the children's grant funds grow. Have you found something for those hard-to-buy for people on your Christmas list yet? Consider sponsoring a child in their name and give them an ornament with that child's photo on it. There's no greater gift than that of a forever family. Visit the angel tree at www.reecesrainbow.org/angeltree2008.htm