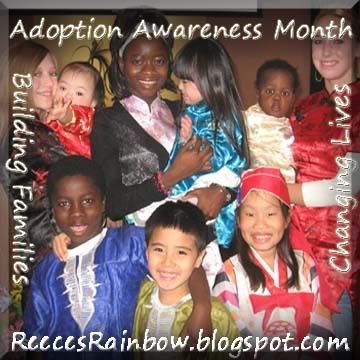 The Bedford family is an amazing family with several unique attributes. With three typically developing biological children, the Bedfords then reached out to two children with Down syndrome in two different countries! One of their little guys also had bilateral club feet. What a neat Journey they've been on! I know you'll enjoy their story.
To help tell their story, Shelley has linked back to her adoption blog. Please follow the links to fill in the gaps :)
I'm Shelley. My husband, Robert, and I have 5 children: Jakob is 9, Olivia is 6, Grifyn is 5, Xander is 5 and Zoie is 3. We're an active duty Army family and we currently live in Alabama.
Adoption is something that Robert and I talked about before we ever got married. We discussed having one or two children together and then adopting a child to complete our family. Adoption is something familiar to Robert because he and 4 of his 5 siblings are all adopted. His parents talked openly to him about adoption and it's something he's always been comfortable with. I always thought about adopting a child. And growing up, I always imagined I'd adopt from Russia. I have known several families through the years who have adopted from Russia, so I guess that's why it stuck in my mind.
In December of 2005, Robert's mother passed away and left each of her children a part of her estate. Robert and I agreed to let the money sit for at least 3 months while we thought about what we wanted to do with it. In December of 2006, we realized that we wanted to honor Robert's mother's memory by using that money to adopt a child.
You can read Robert's complete adoption story here: http://chroniclesofhousehold6.blogspot.com/2008/10/flashback-friday-robert-adoption-story.html
I began researching adoption and at the time was particularly focusing on Russia.
As I looked at each agency website, I began noticing listings for their special needs programs. That was the first time that I realized that children available for adoption were categorized. Since I was a special education teacher for 6 years, my interest in these children was natural and I began clicking on the links. On December 23, 2006, I found myself awake late at night and unable to sleep. I was again online researching adoption. I had a special place in my heart for children with Down syndrome (read that story here: http://chroniclesofhousehold6.blogspot.com/2008/09/flashback-friday.html ) so on a whim, I did a search for "international adoption Down syndrome". Reece's Rainbow is the first website that popped up. I clicked on the website and began looking at all the information. I had tears running down my face as I read all the profiles of the waiting children. In that moment, I knew that I had found what I was looking for. I emailed Andrea asking for information. Then, I went and woke my husband up and asked him for the very first time what he thought about adopting a child with Down syndrome (we had never discussed adopting a child with special needs). He said "let me think about it" and I started praying.
Over the course of the next few days, I got a lot of information from Andrea and waited on an answer from Robert. Finally, in January of 2007, Robert said yes and I showed him a picture of a little boy waiting in Ukraine. I already knew in my heart that the little one smiling up from that picture was my son. I just had to tell my husband that this little boy not only had Down syndrome, he also had clubbed feet. Again, Robert hesitated only briefly and in mid-January of 2007, we committed to bring this little guy home. I went through a crash course in international adoption and an even faster course in adopting from Ukraine (I'd never heard of adopting from Ukraine before this). I did a lot of research and obsessed about the process the entire time. On July 27, 2007, Robert and I were sitting in an orphanage office in Artemvisk, Ukraine holding our son for the very first time. (that story is here: http://gatheringthemfromtheeast.blogspot.com/2007/07/we-met-our-son.html )
At the time of adoption, Xander was less than a month away from turning 4 years old. He weighed 16 pounds and was diagnosed with Down syndrome and bilateral clubbed feet(both feet were clubbed). He could drink out of a bottle but could not eat with a spoon. He was very much like a baby. We brought him home on August 22, 2007 and began the process of therapy and surgeries to address all of his special needs. He had surgery to fix his feet in October of 2007 and wore casts until January of 2008. He went through months of intensive feeding therapy to learn to eat solid foods. We began using sign language to teach him to communicate and just spent a lot of time loving on him and bonding with him.
Shortly after bringing Xander home, I be
gan feeling a tug in my heart to adopt another child with Down syndrome. This time, my husband agreed with everyone else and said that I had completely lost my mind. But by December of 2007, he had decided that he was also open to adopting again. We both thought that we'd return to Ukraine to adopt another child. We were familiar with the process and had a pretty good experience there. But once again, a photo and a smile had captured my heart. This little boy is one that I first noticed on the Angel Tree. In January of 2008, we committed to bring him home. This little boy was waiting in Serbia. (you can read the official announcement and see the photo that captured my heart here: http://gatheringthemfromtheeast.blogspot.com/2008/01/here-we-grow-again.html )
So, once again, I needed a crash course in the adoption process from this country and was surprised to learn that it was a lot less complicated. Things fell into place amazingly fast. The finances that we were worried about coming up with were donated through generous people who believed in what we were doing. The paper work process moved quickly and in April of 2008, our son, Grifyn, became the first child with Down syndrome to ever be adopted from Serbia. (http://gatheringthemfromtheeast.blogspot.com/2008/04/its-boy.html ) He is perfectly healthy and an absolute delight. Like with Xander, we began using sign language to help him communicate and stuck to a consistent routine to help him adjust.
We were very lucky that both boys adjusted well to our family. We used some basic attachment techniques and did keep their routine pretty consistent when they first came home. Our other children embraced them with open arms. People ask me all the time if it's hard having 5 kids and most of the time, it's really not. It takes a little more planning to go places and a lot more consistency to keep things running smoothly, but overall, it's so much fun!
Now, it is October of 2008. Xander has been home for a little over a year and Grifyn has been home almost 6 months. Both boys are doing very well. They are learning and growing and developing at an amazing speed. They both have wonderful personalities. Xander is still a lot more delayed for his age. But he's made tremendous progress and his skills are really starting to emerge. His feet are finally completely healed and he's learned to pull to a stand and walk with the assistance of a walker. He still has a long way to go before walking. But, we are optimistic that in time, he'll be chasing his brothers and sisters through the house. Grifyn is an absolute delight. He is very smart and has picked up English quickly. He and Zoie have become the best of friends and he's learning a lot from his little sister (good and bad!). Both boys have started pre-K and are adjusting to school. It is hard to believe that they haven't always been a part of our family.
Two areas have been hard to get used to since bringing the boys home. The first is dealing with the school system, therapies and insurance. At first, this was all overwhelming. It took a lot of time to organize and to understand how the insurance coverage worked. But now that I understand the process, it's become just another part of our life. I've learned to keep a big calendar on the wall so that I have plenty of room to write on it and to never schedule appointments when I can't see my calendar. I've learned to use the therapists and doctors as resources and I always ask them for advice or recommendations. I've also learned to reach out to other families who have walked this road before us and to use them to get ideas and suggestions.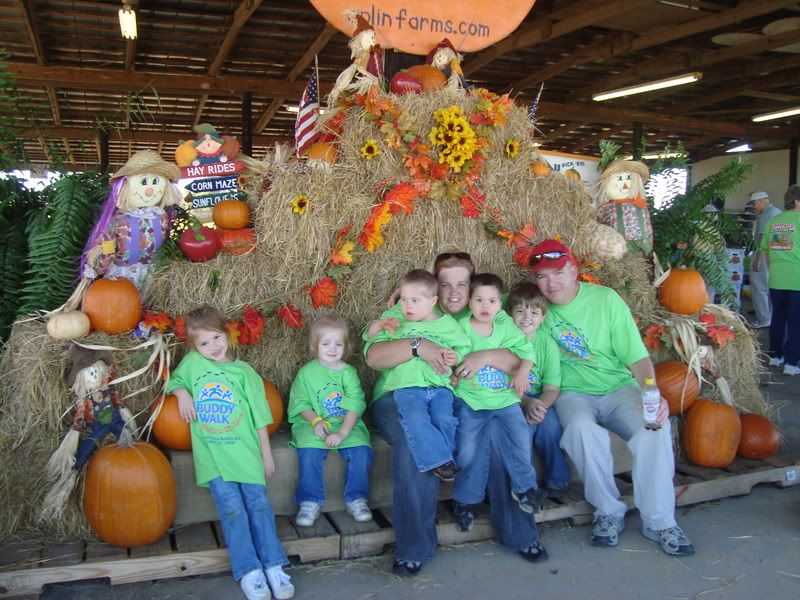 The other thing we've had to get used to is always being noticed when we go out in public. Having 5 children is enough of a reason to get noticed, but then when people see that 2 of them have Down syndrome…..well, I can honestly admit that I'm now always talking to strangers! People are curious about our family and I don't mind sharing about how much we love all 5 of our kids. It still feels weird at times to always get noticed, but it's also been a wonderful opportunity to share the joys of adoption and of children with Down syndrome to people who wouldn't ordinarily hear about either one. I try to remember that we are a living example of the blessings that come when you step "outside the box" and answer God's call in your life. I pray that the Lord continues to use our family to show others that a family who at first glance looks very different can indeed be quite ordinary.
The most surprising part of our adoption process was the realization that for us, adoption was only the beginning. It was a life changing moment the day we stepped foot on the orphanage grounds in Ukraine. It was the realization that we wouldn't just adopt this little boy and go home and live happily ever after in our own little world. Seeing the children living at the orphanage, seeing the conditions in the orphanage, hearing the statistics of what happened to these children when they grew up if they were not adopted…..suddenly, it became about way more than adopting a child. I realized that I couldn't just go home and forget about all that I'd seen. Someone had to keep talking, to keep reminding others that these children are still here. For this reason, I'm so very thankful for the ministry of Reece's Rainbow and the opportunity it has given me to continue to advocate for these children.
You can follow the Bedford family's everyday life at www.ChroniclesofHousehold6.blogspot.com.
Thank you, Shelley and Rob, for sharing your family with us!
More children with Down syndrome can be seen on the Christmas Angel Tree Project, http://www.reecesrainbow.org/angeltree2008.htm ALL of these children are currently available for adoption and the grants that are being raised are to help a prospective family to bring them home!
Reece's Rainbow has one child with Down syndrome and club feet available. Her name is Naomi and you can find her at www.reecesrainbow.org/oldergirls.htm